Find local flavor at Amsterdam Coffee House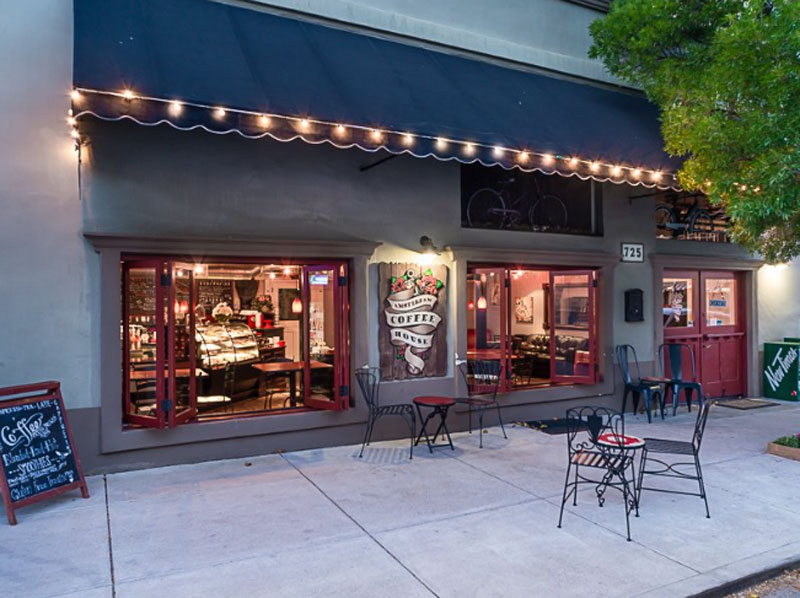 San Luis Obispo County Visitors Guide – One of the rewards of traveling is finding those regional treasures that are special to both local residents and discerning travelers. Amsterdam Coffee House in Paso Robles is exactly one of those places. Locals stop in on their way to work for morning coffee and breakfast and later return for lunch or an afternoon break. Any time of day visitors and locals alike settle down with a good book, a meal, or snack and a coffee or tea.
Amsterdam is a quiet morning place for planning the day's adventures or a refreshing oasis during a day of shopping and wine tasting. Drop in any time and find people from around the world relaxing and enjoying the atmosphere and good food and conversation. Frequent travelers to the Paso Robles area return to the Amsterdam visit after visit. According to Stephanie Rianda, the owner, Amsterdam is a favorite of European travelers who like the familiarity of home and appreciate the welcome they receive on their return visits.
Enter through the double Dutch door that almost always has the top half open creating that old world cottage feel. The bank of windows is usually wide open to the street and the fresh Central Coast air. The bar seating lining those windows is favored for watching the town go by. In a back corner, overstuffed seating gives Amsterdam a homey living room feeling perfect for reading or musing, and uniquely topped tables and chairs scattered throughout provide clusters of intimate seating.
In business since 2009, Amsterdam Coffee House is a hands-on family business; the realization of a shared dream between Rianda and her mother, Rosemary Bourgault. Her mother retired early in 2015 but Stephanie can still be found taking orders and greeting patrons along with her busy staff.
The spot is well known for its fair trade and organic coffee and tea selections, including its signature Lavender Latte. Amsterdam purchases all of its beans from local micro roaster the Kreuzberg Coffee Company, in San Luis Obispo. They brew their original house blend from local Roaster, Coastal Peaks. This coffee is 100-percent certified organic. Most of the bakery items are prepared daily in-house from fresh, locally purchased ingredients. Some specialty items from popular local establishments, such as gluten free, low glycemic baked goods from Bless Your Heart Bakery are also available.
Amsterdam provides Wi-Fi and is located at 725 13th St. Hours are 6 a.m. to 7 p.m. Monday through Thursday; 6 a.m. to 9 p.m. on Fridays and Saturdays, and 7 a.m. to 6 p.m. on Sundays. For more information call (805) 239-7779.
Comments