Advertise in the new Templeton Map
Templeton Map advertising deadline is Jan. 16
Access Publishing recently updated a new map of Templeton, Calif. It will be published with supporting advertisers at the end of this month.
"The map is a cleaner and more complete update of previous maps we have published in our annual business directory North County Access," says Scott Brennan, CEO of Access Publishing.
The Templeton map is posted above. Readers are welcome to comment and offer suggestions. They may be sent to Scott@accesspublishing.com.
Over 10,000 high-quality glossy maps will be distributed in February throughout Templeton including at hotels, retail stores, professional offices, wineries, restaurants and more.
"It's an excellent guide for tourists and locals alike," Brennan says.
The advertising spots for this 2017 map are still available. Additionally, there will be future advertising opportunities in the upcoming Templeton Community Guide in print and online for businesses and organizations trying to reach the community.
For information on advertising on the Templeton Map, call (805) 226-9890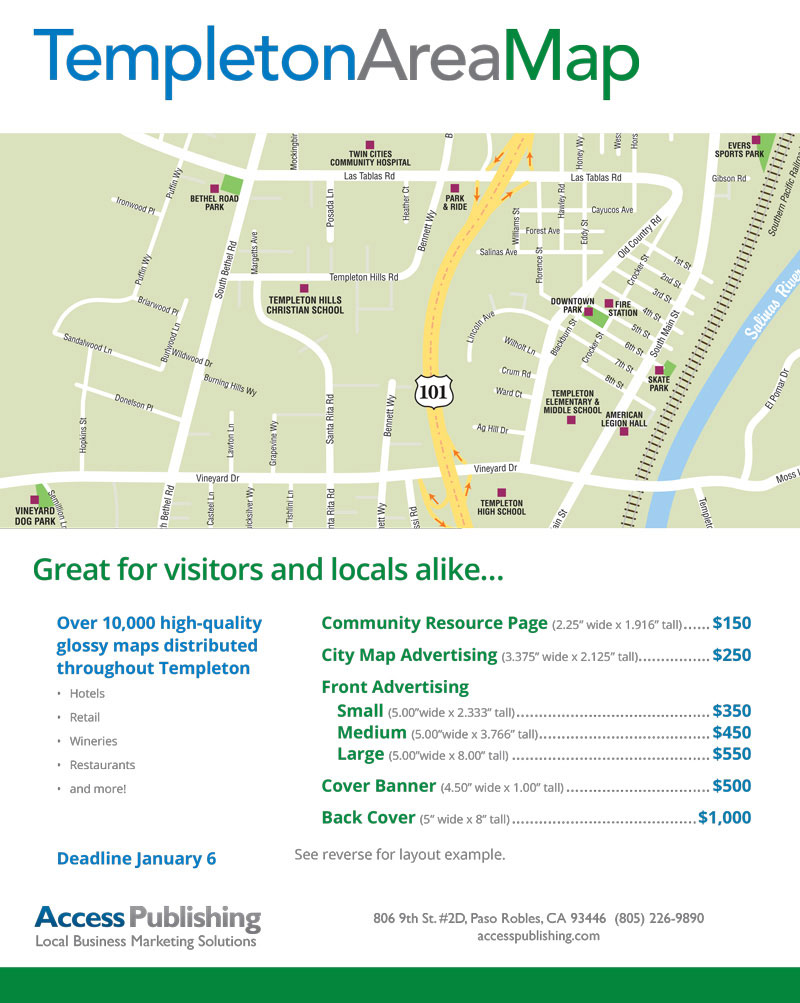 About Templeton, Calif.
Templeton is located south of Paso Robles in San Luis Obispo County, Calif. The population was measured by the last US Census at 7,753. The population demographic is 78-percent White, less than 1-percent Black, 2-percent Asian and 1-percent Native American or Native Hawaiian, 5-percent identify as another race or ethnicity, or two or more races. About 14-percent of residents are of Hispanic or Latino origin. The median income is $72,854 and the median home value is $387,600. Approximately 29-percent of Templeton residents have a bachelor's degree, 93-percent are high school graduates. – Source
Comments
comments
Facebook Comments Plugin Powered byVivacity Infotech Pvt. Ltd.
Comments