Atascadero businesses and individuals to be honored at 'Speakeasy Night'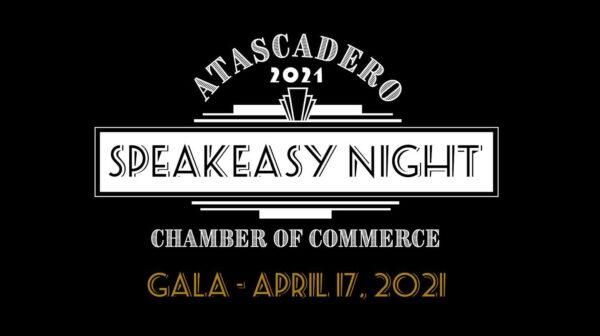 –Earlier this year, the Atascadero Chamber of Commerce reached out to the community to cast their vote for businesses and individuals in Atascadero. This week, the chamber has announced the winners. Join the chamber for Speakeasy Night on April 17 where they will virtually give out these awards.
Click here to purchase a Speakeasy Night Ticket.
Citizen of the Year: Brenda May
Brenda has lived in Atascadero for more than 35 years with her husband David and two children Michael and Jamie. She recently retired after over 50 years as a hairdresser, most recently at Heart and Soles day spa. She is also a senior fitness instructor and was formerly a coach. Retirement plans include remaining active with several local organizations.
May lends her expertise and service to numerous non-profit organizations, including Coats for Kids, the Atascadero Printery Foundation, the Atascadero Performing Arts Center Committee, Quota of Atascadero, Colony Days Committee, and Dancing With Our Stars. For Dancing With Our Stars, not only has she danced in the competition, but she also decorates the Atascadero Lake Pavilion and has sewn several of the costumes. She has also organized many events for these groups, such as murder mystery plays for the Atascadero Printery Foundation and Quota. She is also an active council member of the Community Church of Atascadero, which has housed a warming center for the homeless.
May is very generous with her time and resources, even when they are limited. She has a giving, loving spirit that adds significant value to our community. She is always ready to help the community, friends, non-profit groups, and church. She cares deeply for her family and friends. Her integrity and energy are positive, helpful, and plentiful.
Business of the Year: Wild Fields Brewhouse
Owned and operated by Ryan and Jacque Fields, Wild Fields Brewhouse had just opened its doors to the public for four months before the COVID-19 pandemic hit. Through creativity, level-headedness, and resourcefulness, the Fields continuously pivoted to meet ever-changing regulations and economic conditions. They invested in tables, chairs, and heaters to accommodate outdoor dining. They simplified their menu so they could continue to offer food service to their customers.
Despite the pandemic, the Fields still found plenty of ways to give back to their community. They helped host two bands-and-burgers drive-through events donating supplies, root beer floats, and time. They organized and hosted pop-up movie events giving residents a way to get out of the house during the pandemic while keeping safe. Wild Fields Brewhouse also serves as a location for blood drives regularly?
Any time someone needs help, support, or collaboration ideas, Jacque and Ryan make extra effort to be involved or lend a helping hand. They have continued their unwavering support of our incredible community while building a sustainable business and making delicious craft beers!
Entrepreneur of the Year: Anna Pecharich
Anna Pecharich gives pivoting and innovating a whole new meaning! When the pandemic hit, Pecharich took her business, Anna & Company, online, connecting with customers in a whole new way. She did regular Facebook Lives, digitally connecting and meeting customers from states away who found her business on social media. Her success on social media, paired with her growing, loyal customer base, allowed Pecharich the opportunity to move into an even larger space. Now she can house and sell more house goods, in addition to her current goods for moms and kids.
However, her innovation and knack for trying new things didn't stop there. She recently started offering in-store shopping appointments. Not only does the shopping by appointment model of business keep her customers safe during a pandemic, but it also ensures a whole new elevated customer shopping experience. Customers shop in peace, with helpful employees ready at a moment's notice to assist, which creates a smooth and fun shopping experience.
Pecharich sets the example of what a first-class business can look like in Atascadero. Her store is a big draw for the downtown core and has been a bright spot during a rough year.
Community Organization of the Year: RISE
RISE is a non-profit organization whose mission is to transform the lives of sexual and intimate partner violence survivors, their families, and the community through services and education that promote safety, healing, and empowerment. RISE provides the following programs: 24-hour crisis line, case management, restraining order assistance, accompaniment, advocacy, two safe houses – one in Atascadero and one in Paso Robles – individual and group counseling, and prevention education. All confidential services are donation-based or provided free of charge and offered in English and Spanish.
Tune in April 17 to recognize and celebrate the Citizen of the Year, Business of the Year, Non-Profit of the Year, Entrepreneur of the Year, and Ambassador of the Year. Also, participate in a live and silent auction and exclusive VIP experiences.
VIP Experiences begin at 5:30 p.m. & the gala begins at 7 p.m.
Contributions go towards the expansion of BridgeWorks Coworking Spaces in downtown Atascadero. Bridgeworks Coworking provides functional and affordable spaces to work in the community.
Comments