Atascadero considers Eagle Ranch project annexation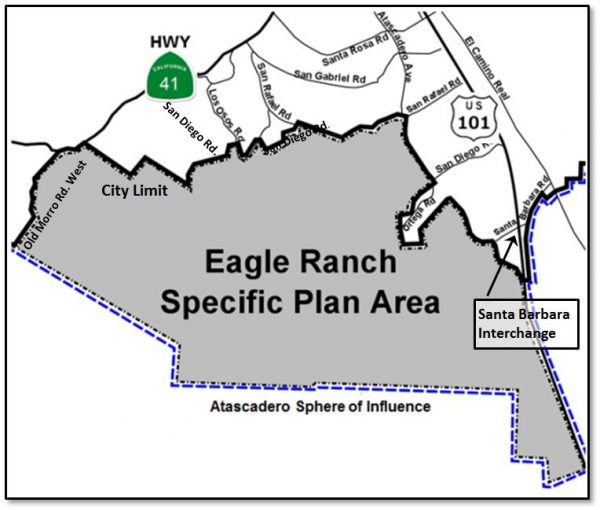 –The City of Atascadero is considering the annexation of the proposed Eagle Ranch project located on the west side of Atascadero.
The proposed project consists of a Specific Plan that would guide development on the 3,457-acre project site. The plan proposes a buildout potential of 494 single-family residential lots, 93 multi-family dwelling units, 15.2-acre highway commercial area with 200 room hotel, a 3.9-acre Village Center, a 44.9-acre resort with a 100-room hotel, 2,285 acres of agriculture and open space, a public park, trails and equestrian area.
Seven vehicular connection points would connect a network of local internal roads with existing city roads. The Specific Plan would be developed in phases. The proposed project requires annexation of unincorporated county property into the City of Atascadero City limits.
The city has prepared a Draft Environmental Impact Report that evaluates the impacts of the proposed project.
The draft EIR is available in print form at the Atascadero Branch County Library, Atascadero City Hall, and online at City of Atascadero's website: www.atascadero.org.
The draft EIR will circulate for public review between Wednesday, Feb. 15, to Saturday, April 1.
Written comments regarding the draft EIR should be directed to the contact below and submitted by April 1.
Callie Taylor, Senior Planner
City of Atascadero, Community Development Department
6500 Palma Avenue, Atascadero, CA 93422
Phone: (805) 470-3448 Email: ctaylor@atascadero.org Fax: (805) 470-3449.
Comments