Atascadero Police Department disputes racism claims filed by Visalia man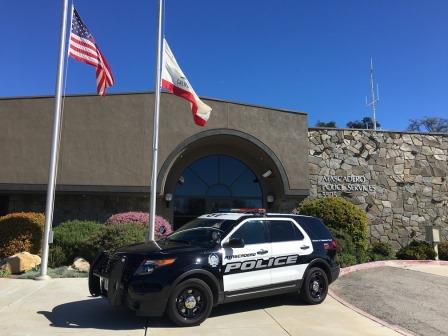 –Kyle Bell, a Visalia resident, filed a lawsuit against the Atascadero Police Department (APD), alleging he was questioned and detained because he was black, was detained by "coercion and a show of force" and charging that the department violated Bell's civil rights. The department is disputing the charges.
According to the lawsuit filed in July, Bell, his wife and two children were returning home to Visalia after a day at the beach. The family stopped in the Atascadero Police Department parking lot to rest and smoke a cigarette before getting back on the road home. Bell was approached by Corporal Rochelle Hanson of the Atascadero Police. Bell claims that Hanson said, "you look suspicious" and questioned him. The lawsuit claims that Hanson also asked Bell's wife "Why are you here? Are you okay?" According to the lawsuit, Bell is a six-foot-4 inch black male and his wife is a white female.
After Bell was allowed to leave he filed a complaint with the department requesting an apology. The New Times has reported that Bell's lawyer, Matthew Owdom, said the police department refused to apologize. The lawsuit argues that Hanson violated Bell's civil rights, detaining him "via coercion and a show of force" and searching his vehicle.
The City of Atascadero filed its response to the July lawsuit in October, denying the charges by Bell. According to reports, the attorney representing the police department, Clayton U. Hall, disputes that Bell was detained, that his vehicle searched, how Bell's complaint "characterized the interaction between Hanson and Bell."
The lawsuit alleges that Bell believes his detention was based on his race and that "his wife appeared to be a white woman." The lawsuit charges that the APD had "engaged in a pattern of systematic deprivation of the constitutional rights of African-American citizens and persons of color," and was a symptom of deeper problems in the department.
Bell was not arrested and statistics for contact between law enforcement and the public that do not result in arrest are not reported. However, the California Department of Justice arrest statistics for 2016 show that of the 11,484 arrests reported by San Luis Obispo County law enforcement agencies, 542 black adults were arrested and 8002 white adults, 2526 Hispanic and 414 designated a "other" were arrested.
The New Times reports that Hall indicated that footage from the body camera Hanson was wearing during incident supports the department's side of the story. Owdom claims that the footage supported Bell's claim. The status conference for the case is scheduled in November.
Comments