Best winery musicians in Paso Robles
Paso Robles has many wine tasting experiences to offer. Along with wine tasting, many wineries include great music to complement the experience. There are many local musicians who perform at local wineries. Below are some of the most talented local winery musicians available. These musicians bring an array of different musical styles to their musical performances. Visit our 
wine tasting map
 here to learn more and maybe one of the talented musicians below will be playing at the winery.
---
Bear Market Riot
Bear Market Riot is the "Power-Folk" duo of Kirk Nordby and Nick Motil. Formed in 2014 on the Central Coast of California, their energetic blend of sounds from folk to funk resonates with audiences of all ages. They are two heartfelt voices singing in harmony playing five instruments with their hands and feet, telling tales of adventure, equality, and romance. With a driving beat and layers of melody, Motil and Nordby create a sound greater than the sum of its parts.
Visit Bear Market Riot Website
---
Noah David
Check out an example of how Noah David Live Loops above
Noah David has played the Central Coast for over a year now and enjoying every minute. "I am a looping artist and this basically means I record Live tracks in right in front of the audience. These 'recorded tracks' allow me to build a song from the bottom up by, laying a beat (I beatbox with my mouth), lay a bass track, lay a guitar part, solo over the rhythm, record backing vocals, and those are the basics building a song by looping Live. I pride myself on my creative process and delivery of my show. I enjoy engaging people."
Overall, Noah David plays popular music from the 90s – Today, as well as performing original songs.
Visit Noah David's website and Facebook
---
Steve Key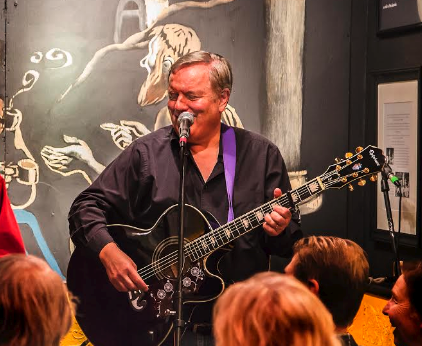 Steve Key is a singer and songwriter. Since 2006, Steve has lived on California's Central Coast. He was featured at the Live Oak Music Festival in 2014. Steve leads the way for many musicians on the Central Coast.
---
Los Gato Locos
Los Gatos Locos is a unique fusion of seasoned professional musicians that brings forth a special blend of Latin-Rock, Funk, and R+B that fires the soul.
---
Burning James and the Funky Flames
Burning James and the Funky Flames is a horn driven gumbo of funk and soul.
---
Nicole Stromsoe
Performing an atmospheric blend of eclectic, old soul, jazz & blues, Nicole Stromsoe's voice has been described as nourishing, sensual, and rich in quality.
---
The Cliff Notes
The Cliff Notes brings an overall blues band experience.
---
Soleffect
Soleffect is a 6 piece band from the Central Coast of California. 2 female singers intertwine their vocals to create a soulful and unique sound. The guitar, bass, trumpet and drums are a powerhouse of rock and funk that will keep you moving. They perform fun and upbeat songs that may just inspire you to dance!
---
Graybill
Graybill is an acoustic Indie-Folk singer/songwriter residing on the beautiful Central Coast of California in San Luis Obispo. He has a smooth voice that's often compared to artists like Jack Johnson, G. Love, Michael Franti, and Sam Beam of Iron and Wine.
---
Carbon City Lights
Carbon City Lights is a groovy alternative rock band based in San Luis Obispo. Their sound blends folk, pop and rock with some funk, and even a little country twang.
---
Dorian Michael
Dorian Michael performs blues and folk, jazz and rock and roll, as well as acoustic music.
---
Five Parts Devil
Five Parts Devil are a San Luis Obispo based trio that provide generous amounts of obscure Americana, roots music, traditional Rockabilly, classic Nashville and Bakersfield music and guilty pleasures.
---
Julie Beaver
Julie Beaver's musical styles include country, rock, Americana, western swing, blues, R&B, bluegrass, old time, classical, jazz and more.  Available for parties of all sizes, weddings, dances, wineries, special events, memorials and bedside music therapy.
---
Ricky Montijo
Ricky Montijo is an American singer-songwriter and multi-instrumentalist. Montijo plays an eclectic mix of soul, rock, Latin, blues, reggae, pop, and world music and is known for his vocals, guitar-playing skills, live performances, advanced looping, and philanthropy.
---
Bob and Wendy
When asked to describe her songwriting Wendy Liepman states, "Every song contains a grain of truth, although some of the names and stories have been changed to protect the innocent." Wendy wrote her first song "Endless Highway" at the age of ten, and continues to play her mother's 1944 Martin guitar. She grew up to the sound of 60's folk music; The Weavers, Kingston Trio, and later Joni Mitchell, Neil Young and the Beatles. Current influences include Buddy and Julie Miller, Sam Phillips, and Aimee Mann.
---
Ted Waterhouse
Ted Waterhouse (aka Catalina Eddy) is one of California's finest veteran guitarist, vocalist, and songwriters. He has been performing on California's Central Coast for over thirty years.
---
Cassi Nichols
Cassi plays beautiful music stemming from her songwriting and lyrics. Her overall sound is light and gentle with a twist of beauty. Cassi also is the promoter of a weekly event, featuring acoustic players, called Pints in the Parlour.
---
Azure Tres
Azure Tres features 3 members of the Catalina Eddy and the blue Keys band: Karen Wilkins on vocals, Ted Waterhouse on guitar, slide guitar and vocals and Johnny Johnson on harmonica and vocals. Blues, soul and roots-rock at it's best.
---
Acoustify
Offering the perfect mix of Country, Contemporary pop/rock and good 'ol Classic Rock favorites, Acoustify is sure to please your guests of all ages.
---
Mike Harris
Mike Harris' musical music roots go deep. Started playing music at the age of 10. He moved on to performing junior high and high school dances. Later he played in the Bay Area at various venues.  "I tend to stylize cover songs and try and make them my own", says Mike. Sitting in with local musicians is one of Mike's favorite things. Beatles, Animals, Kinks, Doors. Eagles, and Jimmy Buffett are some of Mike's favorite songs to play at wineries.
Learn more about Mike Harris here
---
Other Musicians recommended by readers:
---
Who are your favorite musicians in Paso Robles? Let us know and they could be added to this list. Email your recommendations to scott@accesspublishing.com.
Editor's note: The Best of Paso Robles is a special section of the Paso Robles Daily News. This article recommends the best musicians in Paso Robles and surrounding areas that our writers and editors recommend. If you would like to suggest a performer for consideration on the Best of Paso Robles series, click here to contact the Paso Robles Daily News, or call Access Publishing at (805) 226-9890.
Comments