Charles Paddock Zoo receives accreditation from the AZA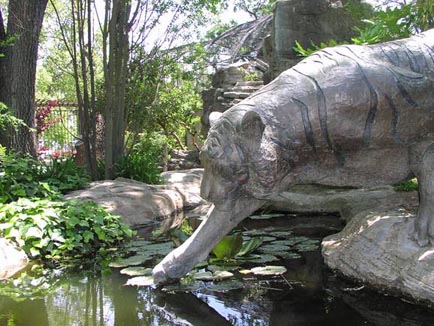 –The Association of Zoos & Aquariums (AZA) announced today that the Charles Paddock Zoo in Atascadero has again been granted accreditation by the AZA's independent Accreditation Commission.
"Less than 10-percent of animal facilities registered with USDA have achieved AZA-accreditation, so the Charles Paddock Zoo is truly a leader in the profession," said AZA President and CEO Dan Ashe. "AZA-accreditation signifies the Charles Paddock Zoo's active role in protecting our world's wild animals and wild places, while providing exemplary animal care and meaningful guest experiences."
To be accredited, the Charles Paddock Zoo underwent a thorough review to ensure it has and will continue to meet ever-rising standards which include animal care, veterinary programs, conservation, education, and safety. The AZA requires zoos and aquariums to successfully complete this rigorous accreditation process every five years in order to be members of the association. The accreditation process includes a meticulous on-site inspection by a team of trained zoo and aquarium professionals, who observe all aspects of the institution's operation, including animal care; keeper training; safety for visitors, staff and animals; educational programs; conservation efforts; veterinary programs; financial stability; risk management; visitor services; and much more. Finally, top officials from the facility are interviewed at a formal hearing of AZA's independent Accreditation Commission.
Atascadero Mayor Heather Moreno said, "We are extremely proud of our local zoo and city staff members who have worked so hard to ensure that this goal was achieved. Our community is really very fortunate to have an accredited zoological facility and we take great pride in knowing that the Charles Paddock Zoo is a proven leader in the care and conservation of wildlife."
Zoo Director Alan Baker stated, "This accreditation reflects our strong commitment to saving animal species from extinction and the high levels of animal care and welfare provided by zoo staff, each and every day. Local residents can and should be proud that they have a facility of this caliber, located right here in their backyard."
The Charles Paddock Zoo is one of only 233 total institutions that are accredited by the AZA. The small, five-acre facility, where visitors can experience the animals up close, is dedicated to the conservation of endangered species, educating the public about the natural world, and providing a safe and stimulating recreational resource for residents and visitors of the Central Coast of California. There are over 200 animal species to enjoy at the Charles Paddock Zoo, and many are part of a globally managed program to preserve animals and their habitats. The zoo features several unique species not often seen in facilities of its size, including fossa, red pandas, Malayan tiger, lemurs and meerkats, as well as many other exciting and interesting mammals, birds, reptiles and insects. The Charles Paddock Zoo recently opened the new "Thelma Vetter Red Panda Experience" exhibit to the public. Located adjacent to the Atascadero Lake Park, the Charles Paddock Zoo is the perfect destination for a day of fun, education and relaxation.
Founded in 1924, the Association of Zoos and Aquariums is a nonprofit organization dedicated to the advancement of zoos and aquariums in the areas of conservation, animal welfare, education, science, and recreation. The AZA is the accrediting body for zoos and aquariums in the United States and eight other countries. Zoo guests should look for the AZA accreditation logo whenever visiting a zoo or aquarium, as an assurance that they are supporting a facility dedicated to providing excellent care for animals and a better future for all living things. The AZA is a leader in saving species and is the public's link to helping animals all over the world. To learn more, visit www.aza.org.
Comments