Clementine Cupcake Company goes mobile
– Paso Robles-based Clementine Cupcake Company will launch Clementine's Mobile Cookie Cafe this weekend at J. Dusi Winery at Paso Robles Harvest Festival from 11 a.m. to 5 p.m. on Saturday and Sunday.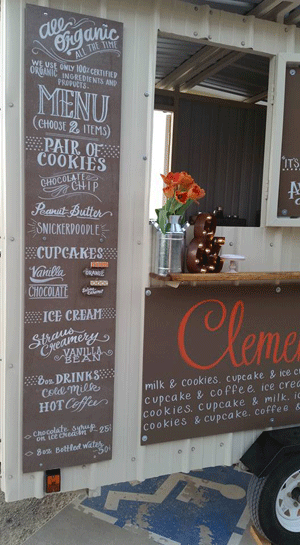 Though Sadie Agueda's company used to provide cupcakes on a weekly basis to Amsterdam Coffee and General Store Paso Robles, she had to step back from that part of her business so she could focus on other ventures. "We do not have a storefront location where you can pop in for one cupcake, we are a special order caterer for large events only," Agueda said. With the mobile cafe, customers can get one cupcake paired with Straus Creamery's vanilla bean ice cream, a cup of hot French roast coffee or a glass of 2-percent cold milk.
Over the years, Agueda has been asked to do pop-up shops at events, but because of the work, and the vehicle space, required, she said she knew she needed a mobile "food truck." She looked for a couple of years to find truck right for her and her business, but she didn't have any luck. So she decided to build her own. With the help of good friend with welding expertise and her father-in-law, Tony, who has electrical expertise, and hand-painted signs by a local artist, Agueda got the right mobile cafe for her business.
"All of the ingredients and products we use are 100 percent organic," Agueda said. "The cookies and cupcakes are baked fresh from scratch by me. … I am excited to be featuring Straus Creamery because not only are they one of the best ice creams I have tasted, they were also the very first 100 percent certified organic creamery in the entire United States."
The mobile cafe will serve its regular cookie trio, chocolate chip, peanut butter and snicker-doodle, and two cupcake varieties that will change. This weekend Clementine's will serve chai spiced vanilla and salted caramel cocoa. Agueda said the mobile cafe's purchasing model is something she calls the "& system," because the items sold are offered as a pair because she said they're "better together." Any two items are $5.
Clementine's does not have a regular route yet, Agueda said, but it is available to book for private events.
Agueda started the cupcake company after her son turned 1-years-old in 2008, but it wasn't on purpose. After a successful career in fashion design, she said she changed her focus when she moved out of Los Angeles in 2004 and got married. She moved to San Jose with her husband, David Agueda, while he got his doctorate of chiropractor. When he graduated, the couple decided to move "back home" to North County so he could start his chiropractic business where their families lived.
While he was growing his business, Agueda worked in the mortgage industry because there were not a lot of opportunities in the fashion industry locally. However, after the mortgage industry crashed, she lost her job soon after giving birth to her first child, her son, Asher.
"Instead of trying to find another job, we made sacrifices for me to be able to stay home," Agueda said. "But once my son turned one year and we celebrated his birthday with cupcakes, my family encouraged me to start baking for real. So, I stated Clementine Cupcake Company as a way for me to have extra income while still being home with my son as well as to give me a creative outlet – the baking and flavor combinations actually brought me back to the creativity I felt while doing fashion design."
Her journey as a baker started quickly and didn't take long before business took off. "I thought it would be something i could do on the side for friends a couple/few times a month,"Agueda said. "Little did i know how quickly it would take off. At that time, cupcakes started to become the new trend for weddings and Paso Robles was becoming the place to get married. It was the perfect fit for me to grow."
Comments