Eagle Ranch annexation project will not proceed, development team says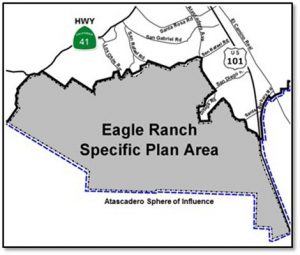 –Representatives from Smith-Hobson LLC, the Eagle Ranch Project development team, advised the City of Atascadero this week that they would not be proceeding with the Eagle Ranch annexation project.
The Eagle Ranch Specific Plan proposed the annexation of an undeveloped 3,457± acre area adjacent to the City of Atascadero's southern boundary. The majority of the site is part of the Historic Atascadero Colony originally established by E.G. Lewis' 1914 Atascadero Colony Map. The project included a reconfiguration of existing single-family residential lots and an area for multi-family units; plus, space for a resort hotel, a village center, a restaurant, a park, an equestrian staging area and miles of roads, multi-use trails, paths, and open space.
In a statement issued by the Eagle Ranch LLC partners, Jeff and Greg Smith stated, "We have spent the last year rethinking and searching for solutions, but in the end, the economics of the Eagle Ranch Specific Plan simply don't work. We wanted a project with many amenities and much open space, but the cost of implementing our vision consistent with community expectations and demands created an overwhelming hurdle. The resulting homes would have been more expensive than the local market could bear, and we didn't want to create a place only for the super wealthy. We are terribly disappointed to give up the project, but we cannot disregard the facts. We met with the Mayor, City Manager and Community Development Director to share this message personally and express appreciation for the hard work of the City of Atascadero throughout this process."
In June, new information had become available that affected the feasibility and marketability of the proposed project. At that time, the Eagle Ranch team asked the city to pause the project while they sorted through the implications of the information.
Mayor Tom O'Malley stated, "It has been an enjoyable experience over the past number of years to work with the Eagle Ranch team. Their team's professionalism in careful consideration of the project and its impact on other residents and the City was exemplary and humbling." City Manager, Rachelle Rickard stated, "The time, review and passion to develop the area meticulously and accurately has been outstanding and we couldn't have asked for a better team to analyze every detail of the project."
Comments