Early morning crash injures five, including young children
Driver struck Jack in the Box sign, flipped vehicle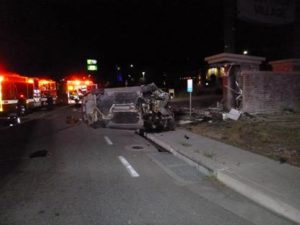 -In the early morning hours at approximately 1:16 A.M., the Atascadero Police Department received 911 calls indicating there was a serious collision in the 900 block of West Front. It was reported that the vehicle had collided with a sign and was flipped over. All on-duty police and fire personnel were sent to the location. Upon emergency personnel's arrival, the vehicle was flipped up on its side in the roadway.
The driver had exited the freeway at a high rate of speed. For an unknown reason, the driver drove up and over the sidewalk where the vehicle struck the Jack in The Box sign. The collision caused the vehicle to flip up on its side. The driver was injured and so were four passengers. Three of the injured passengers were young children. Atascadero fire personnel tended to the injured driver and the passengers. All occupants were transported to area hospitals where they were being treated for various injuries. None of the injuries are considered life-threatening.
It is suspected that alcohol was a factor in this collision. Based on the initial investigation, the children were placed in protective custody. Once the investigation is complete, felony charges against the driver will be sought.
The collision caused significant damage to the sign at Jack in The Box. The Atascadero Police Department is seeking anyone who witnessed this collision or the activity just after the incident. Please call The Atascadero Police Department Traffic Division at (805) 470-3212.
Comments