ECHO Empty Bowls fundraiser returns April 25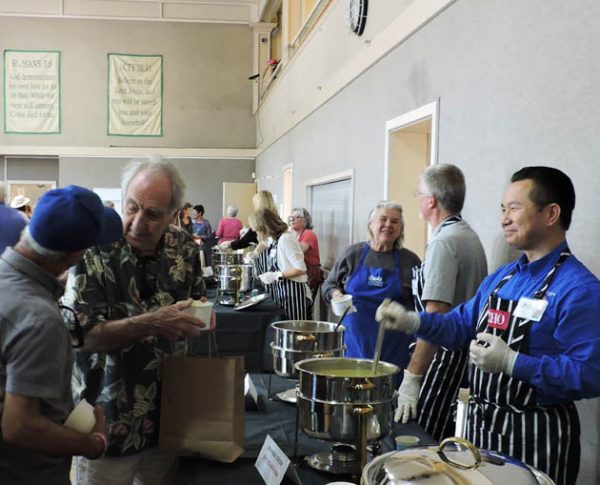 –El Camino Homeless Organization is holding its 4th Annual Empty Bowls event on Thursday, April 25, 2019 at Atascadero Bible Church, 6225 Atascadero Ave., Atascadero.
New this year, is a choice to attend lunch at 11:30 a.m. to 1 p.m. and dinner at 5:30 p.m. to 7 p.m. The event features delectable soups, stews and chowders from local restaurant chefs and artisan breads from local bakeries. Reprising their role are local celebrities coming to serve attendees.
Tickets are available for purchase through Eventbrite as well as at the Atascadero Chamber Office, located at 6907 El Camino Real, Atascadero, for $25 each. Individuals and families are encouraged to participate in this fun-filled afternoon and evening of fellowship and soup tasting. It is a wonderful way to stay warm, taste a wide variety of soups and support ECHO. Guests will take home a beautiful pottery bowl as a reminder of all the "empty bowls" in the world.
Local restaurants and bakeries participating and donating in this years' event include: Guest House Grill, Streetside Ale House, Giovanni's Fish Market & Galley, McPhee's Grill, Catering by Chef Charlie, Dan's Grub House, Morro Bay Hofbrau, Pedro's Mexican Restaurant, and Brian's Bread.
ECHO operates a safe and secure overnight 50-bed shelter to meet the immediate needs of families and individuals who have become homeless. With a unique residency program, residents are provided case management services to assist them in securing a job and finding permanent and sustainable housing within three months of entering the shelter program. While enrolled in the program, residents learn life skills for employment, budgeting, healthier habits and more. The goal and the result of this practical support is the empowerment of residents to move in a positive direction while assisting them in acquiring the skills and services they need to become self-sustaining, including secure housing.
A force of 1,500 community volunteers provides ancillary support to run the shelter program and the meal program that serves as many as 80 dinners each night to shelter residents and the homeless population. ECHO also operates a shower program that provides hot showers three nights a week to anyone in need. ECHO supplies the homeless population all the necessary toiletries and offers access to clothing, shoes, blankets, sleeping bags and school supplies for children.
"Through our Empty Bowls event we encourage the community to help support those who are hungry and homeless," says Wendy Lewis, President/CEO, "ECHO served 52,934 meals in 2018 to the homeless and hungry population of SLO County. We are grateful for the community assisting us in our mission to end homelessness in our backyard."
ECHO's Empty Bowls is supported by many local organizations and businesses including: Brezden Pest Control, Atascadero 76, Pacific Premier Bank, KSBY, Dimes Media, JUSTIN Winery, Twin Cities Hospital, SCI Construction, Gerber's Auto Services, Rabobank, and Howard Products.
For more information, visit www.echoshelter.org.
Comments