Empty bowls fundraiser announces participating restaurants, bakeries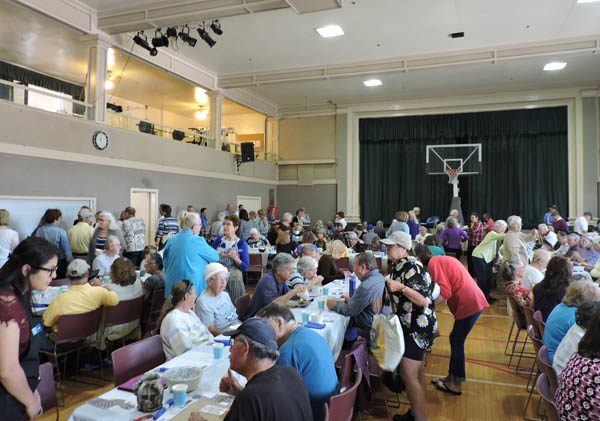 –El Camino Homeless Organization is holding its 4th Annual Empty Bowls event next week on Thursday, April 25, at Atascadero Bible Church, 6225 Atascadero Ave., Atascadero. New this year, is a choice to attend lunch at 11:30 a.m. to 1 p.m. and dinner at 5:30 p.m. to 7 p.m. The event features delectable soups, stews and chowders from local restaurant chefs and artisan breads from local bakeries. Reprising their role are local celebrities coming to serve attendees.
Local restaurants and bakeries participating and donating in this years' event include:
Catering by Chef Charlie
The Restaurant at Justin Vineyards
Dan's Grub Shack
Il Cortile
Guest House Grill
Atascadero Cafe
Streetside Ale House
McPhee's Grill
Pedro's Mexican Restaurant
Trumpet Vine Catering
Outlaws Bar & Grill
The Wellness Kitchen
Hofbrau Morro Bay
Dan Cook
Giovanni's Fish Market & Galley
Nino's Grill
Odyssey World Café
Brian's Bread
The Full Belly Deli
Back Porch Bakery
Tickets are available for purchase at www.echoshelter.org as well as at the Atascadero Chamber Office, located at 6907 El Camino Real, Atascadero, for $25 each. Individuals and families are encouraged to participate in this fun-filled afternoon and evening of fellowship and soup tasting. Guests will take home a beautiful pottery bowl as a reminder of all the "empty bowls" in the world.
ECHO operates a safe and secure overnight 50-bed shelter to meet the immediate needs of families and individuals who have become homeless. With a unique residency program, residents are provided case management services to assist them in securing a job and finding permanent and sustainable housing within three months of entering the shelter program. While enrolled in the program, residents learn life skills for employment, budgeting, healthier habits and more. The goal and the result of this practical support is the empowerment of residents to move in a positive direction while assisting them in acquiring the skills and services they need to become self-sustaining, including stable housing.
"Through our Empty Bowls event we encourage the community to help support those who are hungry and homeless," says Wendy Lewis, President/CEO, "ECHO served 52,934 meals in 2018 to people facing hunger and homelessness in SLO County. We are grateful for our supporters assisting us in our mission to end homelessness in our community."
ECHO's Empty Bowls is supported by many local organizations and businesses including:
Brezden Pest Control
Doug & Kathy Howard
Atascadero 76
Central Coast Printing
KSBY
Andros Engineering
Dimes Media
County of SLO
Justin Vineyards & Winery
The Tribune
Twin Cities Community Hospital
Pacific Premier Bank
SCI Construction
ABC Church
Gerber's Auto Services
Digital West
Rabobank
Twin Cities Surveying
BHE Renewables
Eric Gobler Civil Engineering
For more information, visit www.echoshelter.org.
Comments