Empty Bowls fundraiser raises money for ECHO shelter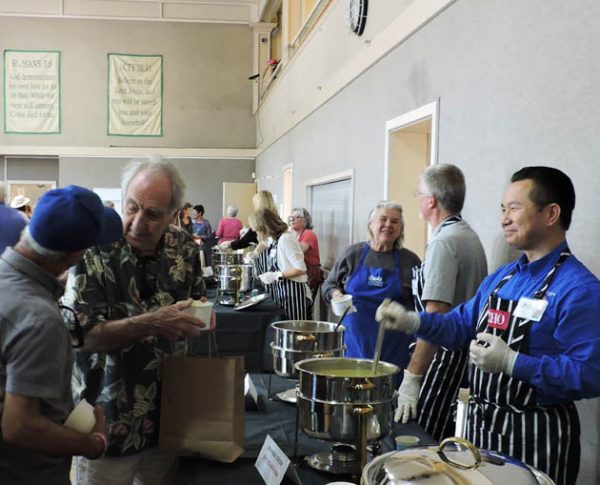 –On Thursday, April 26, from 11:30 a.m. to 1:30 p.m., the El Camino Homeless Organization will once again host its highly anticipated Empty Bowls luncheon fundraiser.
Every lunch participant receives:
Lunch served by local celebrities
Delicious soup and bread prepared by local chefs
A beautiful bowl – some handmade by local potters, some decorated by school children, others from their "eclectic collection" gathered by ECHO volunteers.
The community luncheon, which is scheduled to be held at the Atascadero Bible Church located at 6225 Atascadero Ave, will feature a variety of handmade soups and artisan breads prepared by more than a dozen local chefs and restaurants.
Those who buy a ticket will not only be served by local celebrities including San Luis Obispo County Sheriff Ian Parkinson, Supervisor Debbie Arnold, Mayor Tom O'Malley and several others. They will also receive a beautiful bowl. The bowls will have been either hand-crafted by local artists and students from Atascadero and Paso Robles High Schools, Cuesta College and Atascadero Fine Arts Academy, or collected by an ECHO volunteer.
Although this is only one of the many annual events that ECHO hosts, in years past it has proven to be very successful. Last year's event alone raised approximately $27,000, all of which went directly toward ECHO's efforts to care for the homeless in the North County.
ECHO's Mission is to empower people to make positive change by providing food, shelter and supportive services. Each night at ECHO Homeless Shelter 50 men, women and children are provided a nutritious meal and a warm bed as they work towards independence and housing.
Tickets, which cost $25, can be purchased online at Eventbrite https://echoemptybowls2018.eventbrite.com or at the Atascadero Chamber of Commerce and Atascadero Bible Church.
Comments