Finders Keepers now offering merchandise online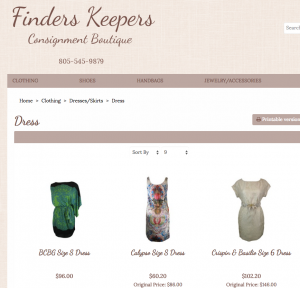 –After nearly two decades of success in their downtown location,San Luis Obispo women's clothing store and consignment boutique Finders Keepers has recently expanded its business to include online retail sales.
According to boutique owner Debra Fogg, the decision to offer merchandise online was in response to customer demand and a desire to provide access to a broader base of clientele.
By expanding to the online retail sales space, Finders Keepers now offers customers the ability to conveniently view the store's inventory in real-time, from any location. Currently, Finders Keepers takes in over 400 high-end and designer clothing items and accessories on consignment per week.
Although the business is locally based, over two dozen of its consignors reside outside of the Central Coast; some as far away as New York. These consignors choose to work with this San Luis Obispo women's clothing store rather than stores in their own community or other online resale sites because of their positive experiences with the owner, and the uniqueness and quality of Finders Keepers. Because its consignors hail from near and far, Finders Keepers is able to offer customers a diverse and ever-changing inventory of high-end women's clothing.
Fogg shared that another benefit of offering merchandise online is that customers can view items they want to purchase and order them immediately. Since most items in the San Luis Obispo women's clothing store are one of a kind in the consignment boutique, this allows customers to claim an item quickly before someone else purchases it. Local customers, or those who will be visiting San Luis Obispo from out of the area, have the option to purchase the item online and later pick it up in-store.
About Finders Keepers
Finders Keepers first opened in downtown San Luis Obispo in 1998. The store offers previously owned women's clothing and accessories at an affordable price. The warm, attentive staff prides itself in treating each customer as an individual. The store's inventory includes high-end designer and contemporary clothing, handbags, shoe, boots and belts. Call today at (805) 545-9879, or visit their website at finderskeepersconsignment1.com.
Finders Keepers
1124 Garden Street
San Luis Obispo, CA 93401
805-545-9879
Press release by San Luis Obispo SEO company Access Publishing, 806 9th Street, #2D, Paso Robles, CA 93446 (805) 226-9890.
Comments