Holiday thieves captured by Morro Bay Police Department
–On Dec. 26, Morro Bay Police Officer Will Marvos conducted a traffic enforcement stop for a vehicle code violation on Kennedy Way near Quintana Road in Morro Bay. The driver, 29-year-old Stephen Michael Maier was detained and arrested for driving under the influence of drugs. The passenger, 27-year-old Kyle Michael Turner was arrested for possession of illegal drugs.
An outstanding subsequent investigation by Officers Marvos, Officer Painter and Morro Bay Detectives Martin and Stuart revealed that the suspects were in possession of multiple items of stolen property, including several stolen pieces of mail located inside their vehicle. Another package located inside the suspects' vehicle was stolen from a residence after it was delivered.
The investigation revealed that the suspects committed numerous vehicle thefts where jewelry, checkbooks, credit cards, clothing, boxing gear and other items were stolen. Officers have identified ten separate victims of theft thus far. Their stolen items found inside the suspect's vehicle were stolen from the surrounding communities of Los Osos, Cayucos, and Atascadero. Morro Bay Police Department is working with these police agencies on this investigation to identify additional victims. It is believed that there are likely additional victims of unreported crimes based on additional stolen property not yet claimed. Several happy theft victims were contacted and responded to the Moro Bay Police Station to recover their stolen property.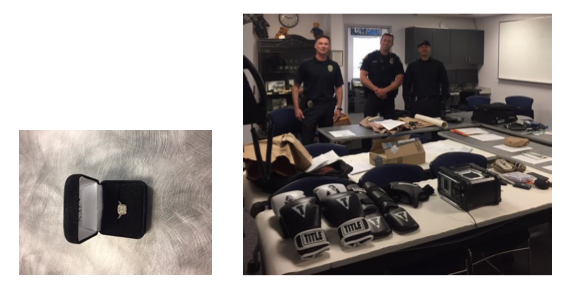 Suspect Stephen Maier and Suspect Kyle Turner were arrested for possession of stolen property, stolen mail, possession of illegal drugs, DUI (Maier), and under the influence of drugs (Turner). Both were booked into the San Luis Obispo County Jail.
The Morro Bay Police Department would like to remind community members during this Holiday Season and beyond to lock their vehicles and do not leave items of value inside of vehicles. Please also be aware that thefts of packages from online sources will continue to increase with the popularity of online shopping. You can find additional safety tips on the Morro Bay Police Department Facebook page.
If you have any information about this case, or believe that you have been a victim of a crime, please contact Morro Bay Police Detectives Martin and Stuart at (805) 772-6233.
Comments