Homeless organization hosting 'New Day, New Hope' campaign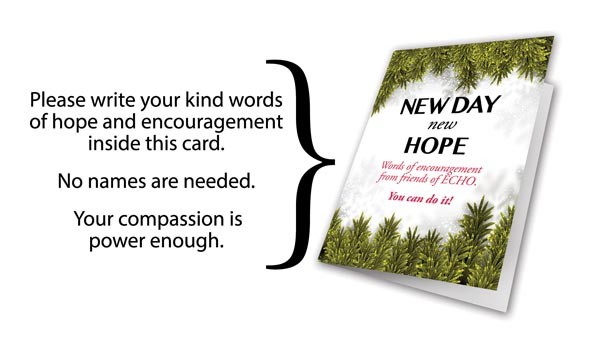 'We want everyone staying at ECHO to know that people in our community care and they are not alone'
–El Camino Homeless Organization, or ECHO, is asking members of the community to write and send words of hope and encouragement to local homeless during December.
"Our homeless men and women often feel like they face one obstacle after another preventing them from getting back into housing," says Robin Smith, an ECHO volunteer. "A simple pat on the back and kind words can really give them hope to keep going and reach their goals."
With this in mind, ECHO volunteers are organizing a campaign called "New Day, New Hope – You Can Do It!" They will provide a holiday card to anyone who requests it, or participants can send their own card to the homeless shelter. "There's no need to put your name inside the card," says Smith. "We want to focus on powerful words that will motivate people and let them know that people care."
"Many of the homeless have lost so much – a job, family, friends, housing – the foundation for stability. On top of that, they often lose self-esteem and don't feel hopeful for things to get better," says Jim Patterson, ECHO's Board President. "During the holidays, this feeling of despair becomes even stronger." The ECHO volunteers believe that the cards will send a different message. "We want everyone staying at ECHO to know that people in our community care and they are not alone," says Patterson.
On New Year's Day, ECHO volunteers say that they are counting on a sea of cards to be on display in the shelter dining room. ECHO board member Terri Sherwin says that the cards will have a lasting impression on the homeless men, women and children staying at the shelter. "It's special to hold a card in your hands, the same card that someone used to write uplifting, kind words. That's a beautiful connection that we believe will encourage our clients during difficult times."
To receive the "New Day, New Hope" card and write a message to an ECHO client, call Robin Smith at (805) 434-2236 or email info@echoshelter.net.
Or you may mail a personal card to:
ECHO
P.O. Box 2077
Atascadero, CA 93423
To learn more, or to donate or volunteer at ECHO, go to www.echoshelter.net or call (805) 462-3663.
Comments