Hundreds attend Memorial Day ceremony in Atascadero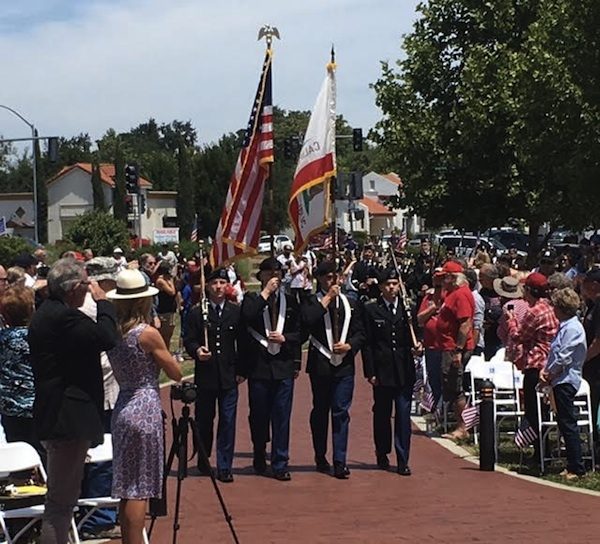 –More than 500 people attended the 2017 Memorial Day Ceremony Monday at the Faces of Freedom Memorial in Atascadero. Cal Poly ROTC Cadets presented the Colors. The Central Coast Pipes and Drums escorted the Cadets to the Faces of Freedom Memorial.
The Guest Speaker was Mark Bailey of Reno, Nevada. Bailey graduated from Atascadero High School in 1966 and enlisted in the Army in 1968. After Officers Candidates School, he was assigned to the Special Forces and made an Infantry Platoon Leader and later, Company Commander, with the 101st Airborne Division. Just north of the Imperial City of Hue his unit was continuous contact with the North Vietnamese Regular Army. From July 1 to 23rd, 1970, the NVRA engaged Mark's unit at the siege of Firebase Ripcord. Supported by heavy artillery, the NVRA outnumbered the Americans 10-1. Fighting was intense. 75 US solders were killed, including the Battalion Commander. The defenders of Firebase Ripcord were awarded three Medals of Honor and six Distinguished Service Crosses. Bailey received the Silver Star, a Bronze Star for Valor and three Purple Hearts for wounds received in combat. He returned home to Atascadero in 1971 and graduated in 1976 from Cal Poly. For the last 40 years, he's lived in Reno. He and his wife and reared four children. His visit to Atascadero on Memorial Day was his first in 40 years.
San Luis Obispo County Clerk Recorder Tommy Gong and his son, Derek, played Taps. After the ceremony, a Kiwanis Crew provided a BBQ lunch.
Comments