Paso Wine Fest returns this weekend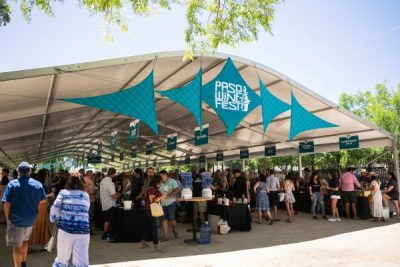 Over 100 wineries set to pour at grand tasting
– This Saturday, May 20, the annual Paso Wine Fest will be held at the Paso Robles Event Center. This year's festival is packed with 115 wineries, seven distilleries, plus food vendors, talented artisans, and incredible music. General admission tickets and VIP early dntry passes are still available.
Attendees can download the Paso Wine Fest app to get all the event details, including a map of the event site, food vendors, wineries, artisans, music, and schedule. The app also allows you to scan a QR code at each winery table to access each winery's dedicated page where you can take and store images of the wines and write tasting notes. Turn on the notifications to get "real-time" updates on what is happening at the fest. The app doesn't stop on just the day of the event. Use the Paso Wine Fest app to see the latest on more than 100 individual winery events throughout the weekend. Additional information can be found at https://pasowine.com/winefest/.
This year's festival marks the 40th anniversary of the original festival in 1983. It has grown in scope and size – from 17 wineries to now over 100, and from the Downtown City Park to the Paso Robles Event Center. This year's festival will feature 12 large signature winery experiences. Each will showcase its own unique attributes and creative flare with immersive tasting bars, artistic installations, and elevated experiences that will add to the fun and festive atmosphere of Paso Wine Fest.
For the ultimate VIP experience, guests can purchase early entry passes and enjoy access one hour in advance from general admission, along with VIP parking, $10 food vouchers for any of the food vendors, and a welcome wine reception while they wait to enter the Paso Wine Fest.
Comments