Siegel's is a treasure hunters dream
From the SLO County Visitor's Guide
Elegant jewelry store is known for both designer & estate jewelry
Browse to your heart's content in an elegant setting and explore Siegel's collection of engagement rings, wedding rings, vintage, and fine jewelry. Find personal one-on-one consulting with a specialist, ready to help you to repair, discover, or sell a piece of jewelry.
Siegel's is proud to hand-select antique rings from estates, and they are famous for having one-of-a-kind treasures around every corner. From designer jewelry, to watches, collectibles, coins, and handbags, Siegel's has all of the best prices in town. Every day something new is added.
The family behind the name is Ken and Kristayln Siegel. "We originally came from Cedar Rapids, Iowa, where our family still has a very successful, family-run store," said Ken.
"My grandfather started it in 1940, and we travel back and forth between Cedar Rapids & Paso. On our 25th anniversary getaway, we visited Paso and everything fell into place. We got the building we wanted, and we love Paso Robles. We opened our second store in May 2012. Paso is a beautiful city, which is close to the ocean and it has a nice local feel. Paso Robles is such a neat town," he said.
Each Winter, Paso Robles holds an elegant evening in beautiful downtown, and all of the merchants kick off the holiday shopping season with open houses, refreshments, entertainment, carriage rides, and door prizes.
"We are known to give away a shopping spree, and have amazing promotions and sales," Ken said. Siegel's is a treasure hunters dream. Customers can find jewelry at many price points from $25 to $25,000. It is the perfect time of year to get ready for the season of giving and shopping local.
Siegel's is different than any jewelry stores in Paso Robles. Ken said, "Being a third-generation jeweler, we try to be a little different than other people and have fun. Whether you need a watch band fitting, or you're searching for the perfect engagement ring, come in and sit back, relax, and enjoy a glass of wine from the Frolicking Frog Cellars made by Stuart Goldman.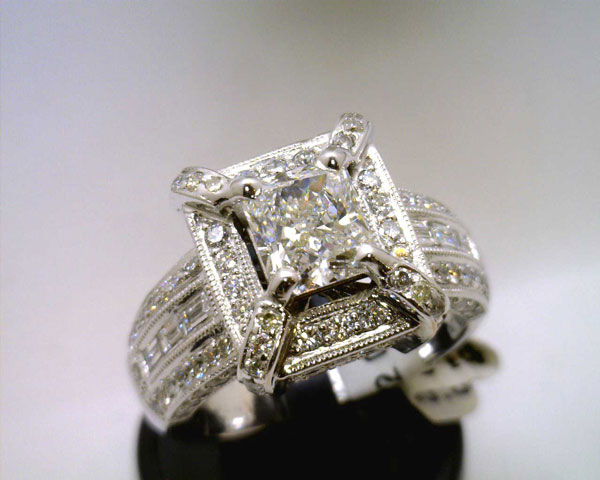 "Our goldsmith is also a winemaker, and so on Thursdays, Fridays and Saturdays, we have wine tasting in the store. I've had husbands and wives in shopping for jewelry, and one of them can relax at our wine bar while the other shops. It is a truly unique experience."
"Visit and enjoy the many free wine events downtown, and browse our jewelry at the same time. Sometimes you might find a designer Tiffany piece or something from a bygone era."
Siegel's focus is on getting different designer pieces and buying inventory from stores who go out of business. Ken said, "When you shop at Siegel's, you know the neighbor isn't going to have the same exact piece of jewelry."
"Jewelry making is an art. We take a lot of pieces and turn them into something else, which makes us unique. I'm very flexible trying to recreate other pieces, and we can take stones out of one mounting and put it in a new setting. It's exciting to renew old pieces to make a new contemporary feel, but sometimes costs can be prohibitive at other places, and with us- every situation is different, we support the customer to make their dreams come true."
Locally, Siegel's supports the Boys & Girls Club, and the Paso Robles Youth Arts Foundation and gives back to the community. Siegel's business is fully accredited, with an A+ on the Better Business Bureau, and has almost 5 stars on Yelp.com. "It is a perfect place to go whether you are buying or selling, our mission is to bring customers the largest selection of certified diamonds at unbeatable prices and to treat each customer like family."
Siegel's is located at 739 12th St. in downtown Paso Robles. Holiday hours are Monday – Saturday 11 – 5 p.m. and closed on Sundays. For more information, visit www.diamondsrforever.com or call (805) 239-4367.
Comments