The Pour House – A local favorite for craft beer and live music
From the San Luis Obispo County Visitor's Guide.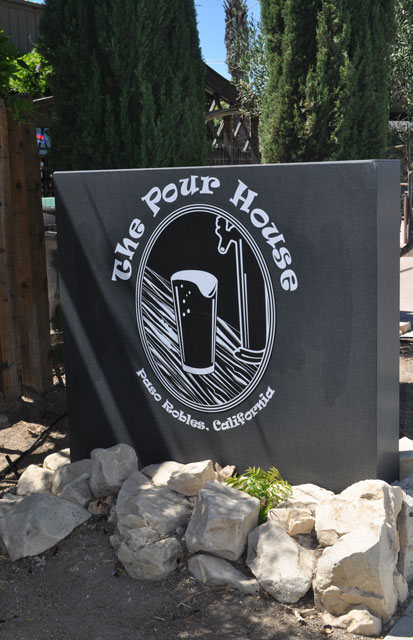 Located on Pine Street near downtown Paso Robles, The Pour House has been a favorite local hangout since opening in 2009 and has been at its current location since 2012. When the lease at the original location was not renewed, loyal patrons continued gathering at other establishments, waiting for the Pour House to find a new location.
Tap beer, wine and music
The bar has 25 beers on tap. The list includes a wide variety of ales, IPAs, porters and stouts, ciders, and a couple of sour and fruit beers, and some in cans or bottles. Local breweries are well represented, including Silva Brewing, Central Coast Brewing, Firestone Walker and ciders from Bristols Cider House and Tin City. There's even a non-alcoholic local Kombucha on tap from Whalebird. Other beers are sourced from elsewhere in California and around the nation, including Pabst Blue Ribbon, a traditional favorite since 1844.
In addition to the large selection of beer, The Pour House also serves local Central Coast red and white wines, as well as sparkling wines. Patrons are invited to bring their own bottle of wine for a $15 corkage fee.
"I try to rotate my taps by style," owner Shawn Copen said. "Although there's many more options available to beer lovers in the area since we began, I still believe we have the best draft selection and music venue in the north county."
Something is going on almost every night of the week:
• Great top-notch local and traveling musical acts from all genres on Thursday thru Sunday
• Tuesday Stump Live Trivia Night from 7 – 9 p.m.
• Weekday Happy Hour until 6 p.m. Enjoy $5 craft pints. Some exceptions may apply.
• Bring Your Own Vinyl Night! Bring your favorite vinyl albums to spin every Wednesday from 6 p.m. to closing.
• Bi-weekly Blues Jam with Rick Pittman every other Sunday at 5 p.m. All players are welcome and get happy hour pricing! Alternating
Sundays are UnCork the Mic, hosted by Michelle Morrow, a Live open mic session starting at 6, with a featured artist playing at 7.
"It's kind of a local hangout," Copen said. "Of course, it helps if you love beer and music."
Keeping it simple
While Copen doesn't cook at The Pour House, pretzels and mustard are provided for free and pre-packaged snacks are available for purchase. Customers are also invited to bring in their own food or have food delivered as well.
"We try to keep it simple: music and craft beers," Copen said. "Music-lovers, musicians and craft beer enthusiasts love this place."
When Copen opened The Pour House in 2009, he had never worked in a bar before – although his senior project at Cal Poly Pomona was based on a beer bar. He had been a mechanic for 12 years before purchasing the bar.
"Then this kind of happened," Copen said. "I took over a beer bar and made it The Pour House – it kind of fell in my lap." Copen said he loves craft beer. Mostly an IPA drinker, his favorite beer changes with the season.
The Pour House, located at 525 Pine St. in Paso Robles, is open Sunday 12-9 p.m., Monday 2-9 p.m., Tuesday thru Thursday 2-10 p.m., Friday 2 p.m.-midnight, and Saturday noon-midnight. For more information, about scheduled bands and beers on tap, visit www.pasoroblesbeer.com or call (805) 239-1000.
See related: Local beer tasting places
Comments