Third annual Tamale Festival returns to Atascadero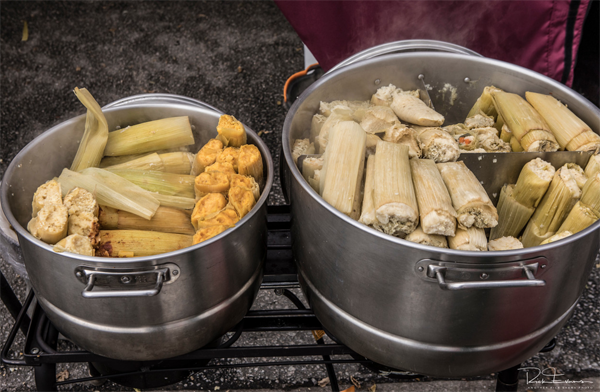 –The City of Atascadero will present the 3rd Annual Tamale Festival in the Sunken Gardens in downtown Atascadero on Saturday, Jan. 20 from 11 a.m. to 4 p.m., rain or shine. This event has truly been a success and has grown each year from the inaugural event in 2016. There will be everything from gourmet to traditional to sweet tamales, featuring tamale vendors coming to town from all over California. Expect over 25 tamale vendors.
The city prepares each year for this event with countywide outreach to numerous local restaurants, caterers and non-profit organizations. In addition to this, we also attend the famous International Tamale Festival held in Indio, California to promote Atascadero's event and in search of more tamale vendors to add a wide variety of tamales to the festival.
The very popular "Tamale Contest" will return this year, where all of the tamale vendors can showcase their outstanding work in creating the "best" tamale. There will be a "People's Choice Tamale" and a "Judges Favorite Tamale!" This year, they will be judging three categories: Gourmet, Traditional and Sweet Tamales. In 2017 for the "Judges Favorite," La Luz del Mundo of Santa Ana won first place, Shave N Flav won 2nd and Dos Hermanos in San Miguel won 3rd place. For the "People's Choice" award, Garcia's Restaurant in Atascadero won 1st place, Dos Hermanos in San Miguel won 2nd and Shave N Flav won 3rd place! This year, members of the Atascadero City Council and local celebrities will kick off the judging of the Tamale Contest at 11 a.m. to select their own personal favorite tamale. The winners of the "Judges Favorite Tamale" along with the People's Choice for the "Most Popular Tamale" will be announced at 4 p.m.
Our event this year will also feature a Tamale Eating Contest. Anyone interested in participating should go to the information booth at the event to register for the contest, which will have two separate competition groups for ages 12 and over, and under 12 years of age. These contest participants will have two minutes to eat as many tamales as possible. There will be an entry fee of $5/ person for 12 & over and free for under 12 years of age. Sign-ups will take place at the information booth at 12 noon and the contest will take place at 1 pm. Space is limited, first come first served. First place winners will receive a trophy.
Entertainment at the Third Annual Tamale Festival will feature the Mariachi Mexicanisimo band, the famous Dancing Horses, soloist Manuel Enrique, the Grupo Folklorico Dancers from Paso Robles and the Los Gatos Locos band. The festival will also include bounce houses, face painting, balloon animals and plenty of fun for all ages. A variety of food and craft vendors will be featured, providing a wide variety of other food types to appease everyone's palette and appetite.
The event is free to attend and enjoy the entertainment, but don't forget to bring your wallet in order to purchase delicious food, activities and merchandise; and be sure to place your orders from your favorite tamale vendor(s) to stock up, as tamales freeze well too.
For interested tamale vendors, other food or merchant vendors, the deadline to register is Jan. 3 at 5  p.m. Please contact Bonnie Williams at (805) 470-3478, bwilliams@atascadero.org for application information.
For any other questions, please contact Terrie Banish at (805) 470-3490 or email tbanish@atascadero.org.
Comments