Three cars stolen from Guarantee Auto Group in Atascadero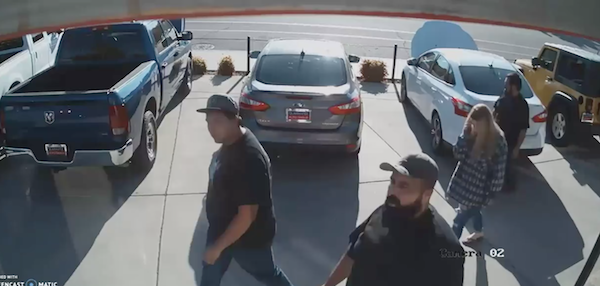 –On Oct. 20, three male subjects along with a female walked the used car lot of Guarantee Auto Group in the City of Atascadero. According to the reporting party, he believed the female entered the sales office after asking to use the bathroom and accessed the unsecured keys for the vehicles on the lot. The suspects all left the lot in a silver late model Honda Civic Coupe, unknown plate. When the business closed at 5 p.m., two of the male suspects entered back onto the lot and drove away with two pick-up trucks.
Stolen Vehicle 1 is a brown 2008 Ford F350 crew cab 4×4 pick-up (CA:99556S1) with paper "Guarantee Auto Group" plates over them.
Stolen Vehicle 2 is a white 2005 Ford F-250 crew cab FX4 pick-up (CA:7S51597) with paper "Guarantee Auto Group" plates over them.
Video and still images of the suspects have been uploaded to the department's Facebook page.
If you have any information on the identification of the suspects please contact the Atascadero Police Department Investigations Unit at (805) 461-5051.
Comments