Learn how to write and submit a press release
-Promoted article-
Press Release Seminar hosted by news editor
Access Publishing is offering a Press Release Seminar this month in Paso Robles.
Learn how to effectively write and submit a press release from speaker Skye Ravy, managing editor of the Paso Robles Daily News, A-Town Daily News & the San Luis Obispo County Visitors Guide.
"Would you like to get free media exposure for your business or organization?" asks Ravy. "A press release is a great way to get your message out to the community at no cost to you."
Attend this complimentary seminar and learn the secrets of a press release:
• Successful press release topics
• Required elements in a press release
• How to submit a press release
• Where to submit your press release locally
The seminar will be hosted Wednesday, Sept. 28., at the North San Luis Obispo County Association of Realtors conference room at 1101 Riverside Ave #A, Paso Robles.
Sign up for the Press Release Seminar
Where: 1101 Riverside Ave #A, Paso Robles
When: Wednesday, Sept. 28, 10 a.m.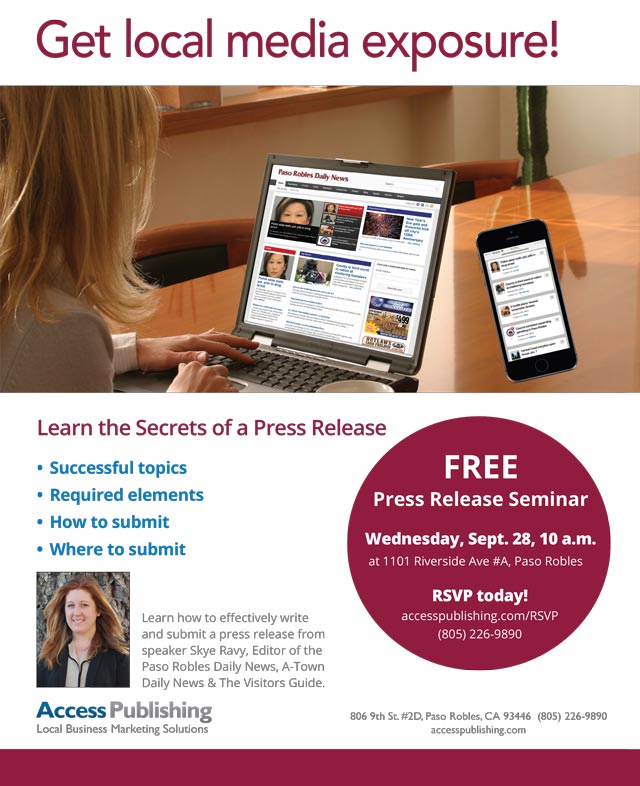 Comments
comments
Facebook Comments Plugin Powered byVivacity Infotech Pvt. Ltd.
Comments